Casambi Enabled Wireless Presence Detectors
Casambi Enabled Wireless Presence Detectors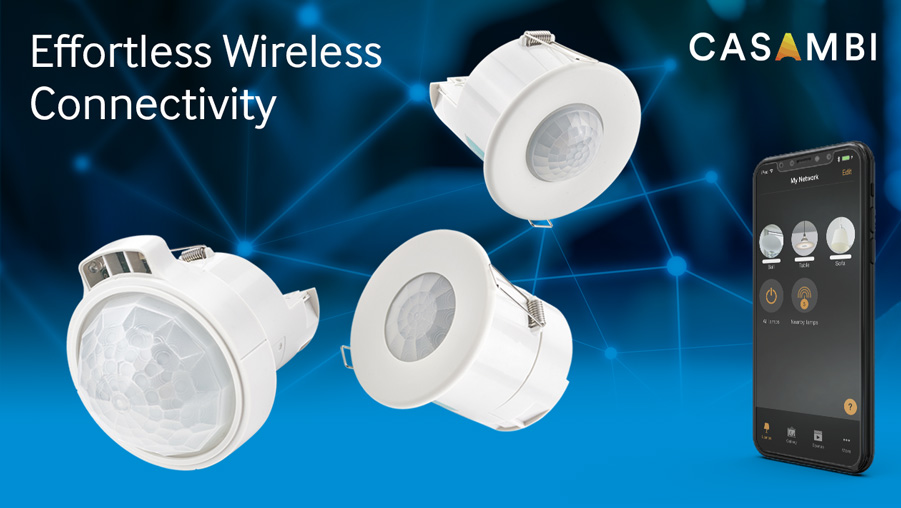 CP Electronics sensing capability meets Casambi's smart wireless technology
Casambi Technology
This state-of-the-art wireless technology enables modern smartphones, tablets and even smart watches to be a lighting controller. Their lighting control technology can be integrated into luminaires and LED drivers to create a highly functional solution with minimal cost and installation effort.
CP Electronics Casambi Wireless Sensors
Many Casambi sensors offer only sensing without any control outputs, and those that do, require DALi drivers in order to control light fittings. CP Electronics' Casambi range on the other hand offers complete control due to its ability to switch and dim any type of load and convert any light fitting into a smart light. Not only saving time and cost, but doing so effortlessly.
Casambi technology provides a wireless mesh network where the intelligence of the system is replicated in every node, creating a system with no single point of failure.
The distributed and symmetric architecture means any unit can go offline and catch up from others when they are back online.
This lighting control solution is powered through the Casambi App which works on iOS and Android devices. The user interface is so simple that it can be used by anyone, regardless of technical proficiency. The Casambi App can be downloaded to your Apple iOS device from Apple's App Store or to your Android device from the Google Play Store.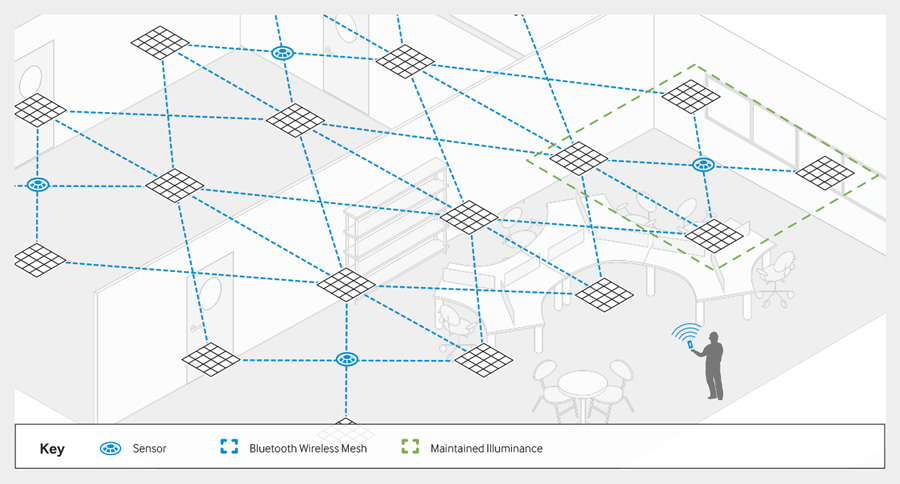 In an office application, triggering a detector sends a Bluetooth signal to all associated devices within the wireless mesh. The end user benefits from this decentralised set up with app based control via a smart device.
Accurate daylight harvesting balances luminaire output with the natural lighting available. The compact EBDSPIR and the EBDMR mid-range detectors will then send a signal to adjust the light output of the luminaires within a specified area (green dashed line), ensuring the efficient use of energy and maintaining a comfortable, safe working environment.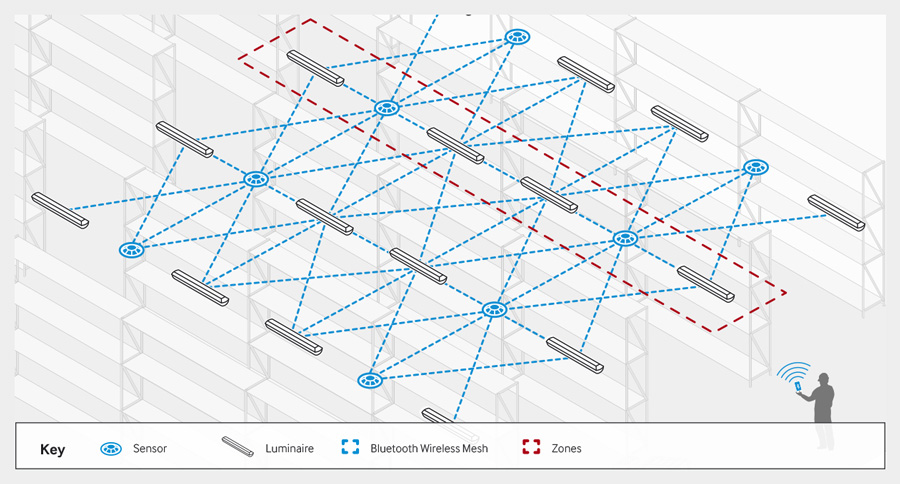 The EBDHS high bay presence and lux detector with its patented lens design and truly impressive detection range has been specifically designed to deliver lighting control and energy saving benefits within industrial and warehouse environments.
CP Electronics wireless mesh detectors also have output channels. This means they can control wireless enabled luminaires remotely, or alternatively be mounted within the luminaire itself transforming it into a wireless node and removing the need for a separate controller.