Casambi Enabled Wireless Presence Detectors
Casambi Enabled Wireless Presence Detectors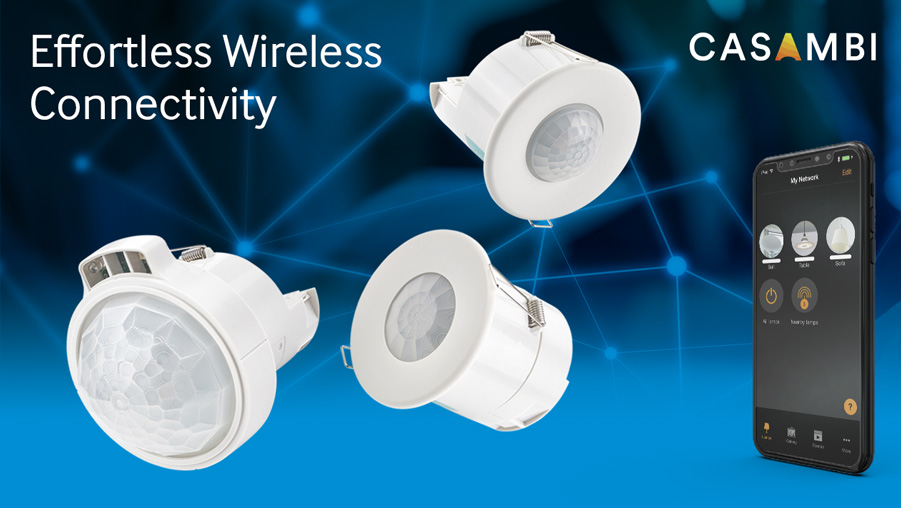 CP Electronics sensing capability meets Casambi's smart wireless technology
Casambi Technology
This state-of-the-art wireless technology enables modern smartphones, tablets and even smart watches to be a lighting controller. Their lighting control technology can be integrated into luminaires and LED drivers to create a highly functional solution with minimal cost and installation effort.
CP Electronics Casambi Enabled Wireless Detectors
Many Casambi enabled detectors offer only sensing without any control outputs, requiring the use of additional Casambi nodes or Casambi enabled drivers within luminaires. CP Electronics Casambi enabled detectors posses both a switched output and a broadcast DALI output allowing control of luminaires without any additional devices. With no additional nodes required per lighting fixture, huge cost savings can be made.
Key Benefits of CP Electronic's Casambi Enabled Wireless Detectors
Smart automatic joining to mesh network on power up, thus one for one self-healing replacement is possible
Single point of network failure is removed
Rugged de-centralised control that continues to function even during loss of network
Full flexibility to group or re-group and configure advanced daylight, occupancy and time control regimes
Commissioning tools with wireless signal diagnostic aids
DALI dimming and separate relay output gives greater installation flexibility.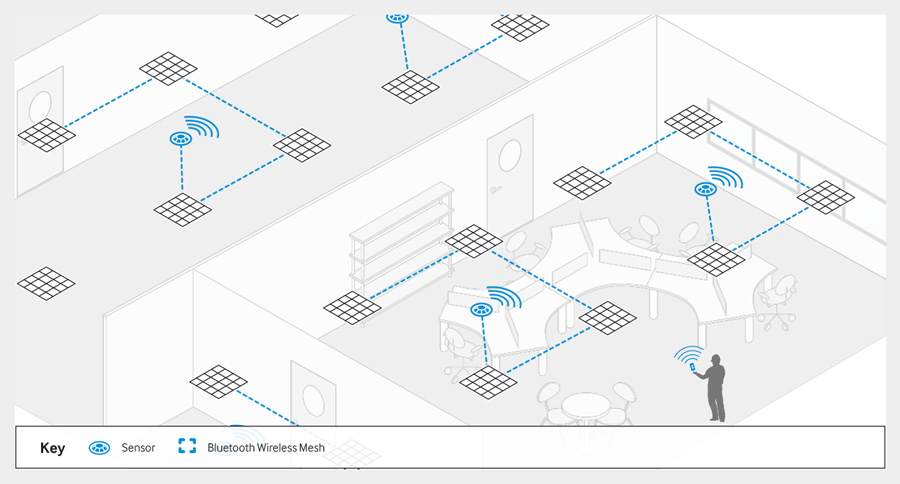 In an office application, triggering a detector sends a Bluetooth signal to all associated devices within the wireless mesh. The end user benefits from this decentralised set up with app based control via a smart device.
Accurate daylight harvesting balances luminaire output with the natural lighting available. The compact EBDSPIR and the EBDMR mid-range detectors will then send a signal to adjust the light output of the luminaires within a specified area, ensuring the efficient use of energy and maintaining a comfortable, safe working environment.
Separate dimming and relay outputs gives extra flexibility within the space.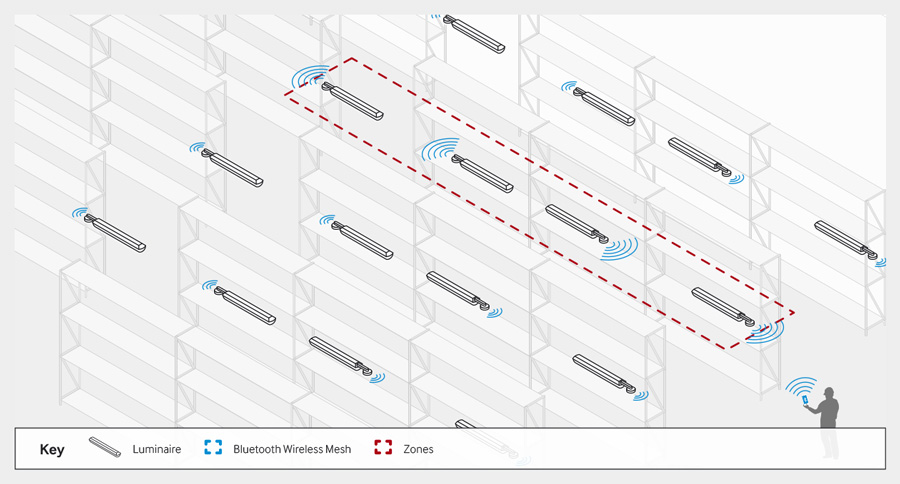 The patented fresnel lens design along with a multi-pyro feature gives the EBDHS high bay detector its impressive detection performance. By having a dedicated external light sensor, the detector is better able to offer precise readings of light level in a controlled space, an issue that is particularly demanding when mounted at high levels.
Its excellent wireless mesh range ability and wide detection capability makes it ideal for large space installations. The smart device programability enables these detectors to offer the flexibility to adapt any group of lights to suit the needs of developing warehouse layouts including racking aisles.