Vitesse Plus Hardwired
Vitesse Plus Hardwired New generation hardwired lighting control system
Simple to install, easy to connect
CP Electronics design and manufacture energy saving devices, from standalone detectors to fully integrated control systems. We now bring you the next step in the evolution of energy control - Vitesse Plus Hardwired.
Time-saving features
Vitesse Plus Hardwired is a range of lighting control systems (LCMs) specifically designed to make commissioning fast, simple and effective.
At its heart, Vitesse Plus Hardwired is a 6 channel LCM with dimming and switching capabilities via powerful pre-designed configurations. It is perfect for a wide range of commercial and public applications.
Being hardwired, Vitesse Plus is especially suited where cabling is restricted to conduit, is concealed or inaccessible due to lack of false ceiling space.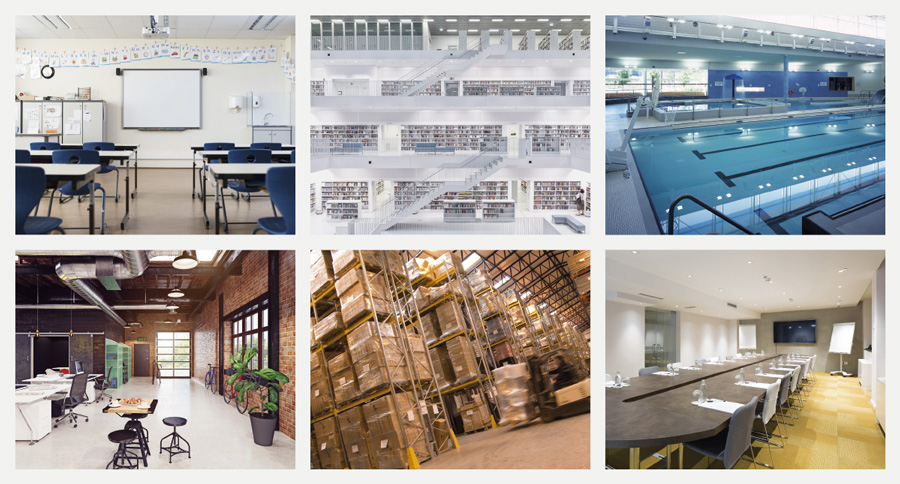 Schools
Switching and dimming of luminaires in the classroom to ensure whiteboard visibility while balancing classroom illuminance.
Graduated daylight dimming dims luminaires progressively to work with natural light to reduce costs.
Amenity Centres
Occupancy dimming reduces light levels once an area is unoccupied to provide maximum energy savings, safety and security.
Combine with daylight-linked dimming for further savings.
Manual switch override that meets space usage requirements.
Leisure Centres
Long range detectors for high level presence detection in sports halls, etc.
Master-on switch turns on all the luminaires connected to an LCM regardless of channel or input arrangement for safety and convenience.
SELV inputs provides low voltage switching to ensure safety and compliance.
Retrofit Offices
Presence detection and daylight harvesting gives increased energy savings, and adds to the required standards of energy efficient buildings.
Scene selection allows the recall of pre-programmed lighting levels to suit different uses within an office space.
Industrial
Multi-channel flexibility allows control of adjacent use areas - e.g. storage room and manufacturing.
Combine with daylight-linked dimming for further savings.
Hotels
Step down illuminance prevents complete switch off in circulation spaces (unless natural daylight
is available). This provides safety and security for guests.
Easy scene setting and recall for ballrooms and conference areas.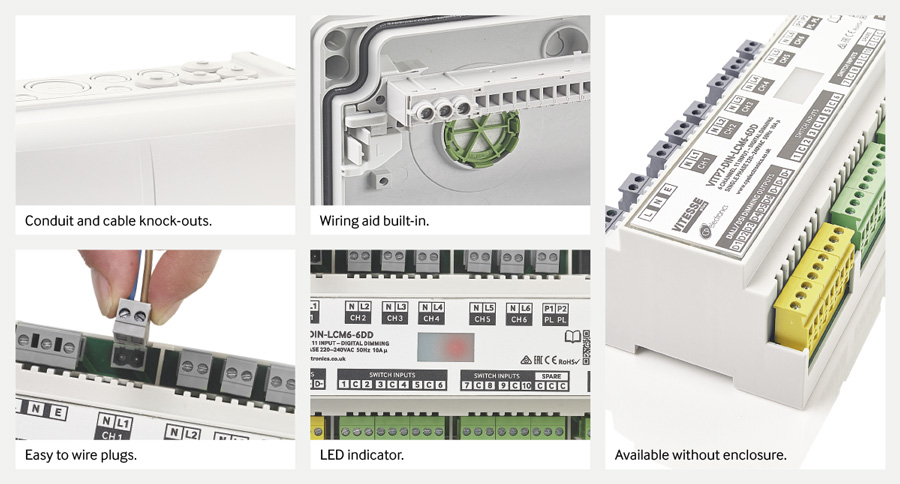 Vitesse Plus has been designed with the installer in mind and provides easy installation options for all mounting locations.
The compact installer friendly housing is IP65 rated.
The enclosure is supplied complete with conduit and cable knock-outs.
Wiring aid built-in.
Easy to wire plugs.
LED indicator for programming feedback.
Also available without enclosure for DIN rail mounting into alternative enclosures.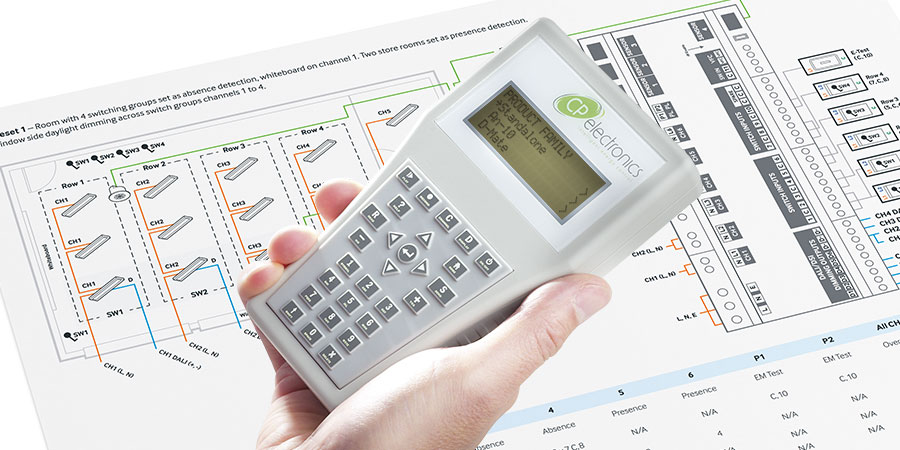 The Vitesse Plus range with its unique built-in preset configurations provides simple commissioning and maximum flexibility.
Match pre-sets to your application
We have developed a collection of pre-set lighting control schemes which suit a wide range of requirements.
Simply match your application to one of our pre-set collection and activate using our programming handset.
Alternatively, you can customise elements individually to achieve a bespoke configuration.
A sophisticated, 6-channel lighting control system like Vitesse Plus offers a wide choice of configurations, making it fully adaptable to the building space.