Vitesse Plus
Vitesse Plus New generation 7-channel lighting control system
Flexibility, Reliability and Simplicity at Your Fingertips
Vitesse Plus heralds the next step in lighting control, with simple commissioning and total flexibility. It's a full 7-channel system that's ideal for education, commercial and retail spaces – anywhere that needs to control energy costs without affecting user convenience.
Some lighting control systems need time-consuming and costly expert programming. In contrast, the new Vitesse Plus system features a built-in pre-set configuration menu that allows the installer to configure the system quickly and intuitively for any location.
Its innovative design also helps the education sector meet emerging legislation and guidelines for classroom lighting control, including building information modelling (BIM) and Education Funding Agency (EFA) directives.
Controlling any light source, any building, any space.
Graduated dimming
Corridor hold
SELV switching
Emergency lighting test
Open port function
Scene setting
Graduated dimming
The lighting within a space dims progressively from the source of natural illuminance in response to changes in natural light levels. This maximises the use of daylight within a space and minimises energy consumption and over-lighting of the space.
Corridor hold
To allow safe local egress lighting a simple corridor hold output is provided via a pluggable connector on the lighting control module. If any of the control outputs are 'on' any other lighting control module connected via the corridor hold output will also be 'on'. By connecting the corridor hold between Vitesse Plus lighting control modules, simple notional corridor routes can be created.
SELV switching
The new Vitesse Plus lighting control module has 18 SELV inputs. Up to 5 centre biased retractive switches can be connected as well as an ELT keyswitch. This allows cabling for manual switches to be non-mains rated and without the need for mechanical protection, saving you time and money.
Emergency lighting test
Dedicated SELV input allows for a local emergency test on the LCM. This can be linked across a number of LCMs to allow emergency test of a large open plan office for example.
Open port function
The LCM can be programmed via a connected presence detector using our professional commissioning LCD programming handset, UNLCDHS. This is ideal for when access to an LCM is limited.
Scene setting
Scene selection allows the recall of pre-programmed lighting levels to create different moods or to suit different uses within an environment.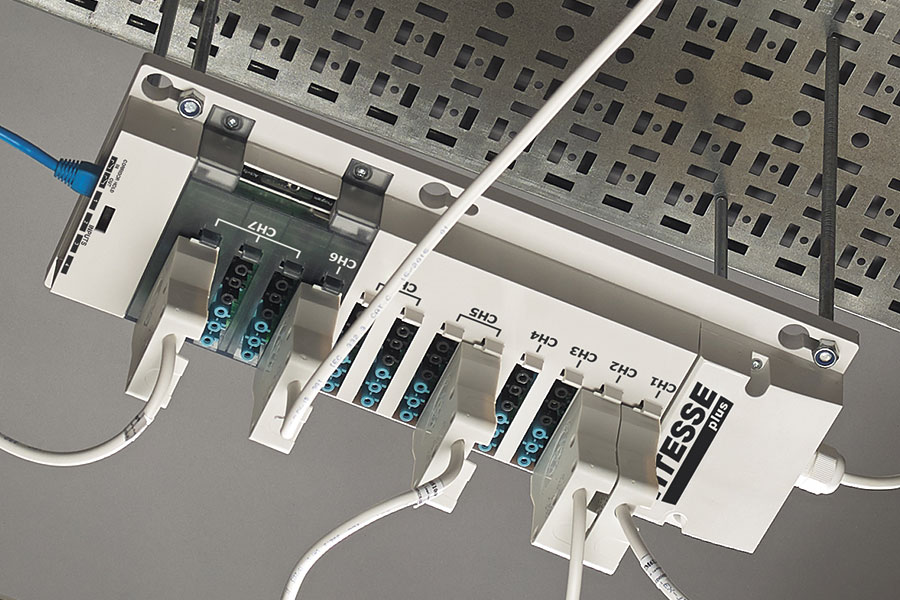 Vitesse Plus has been designed with the installer in mind and provides easy installation options for all mounting locations.
The mains input is connected using the spacious wiring compartment; and control inputs and outputs are pluggable using industry standard connectors as shown in the typical layout opposite.
Versatile wiring connections
Vitesse Plus has been designed for hassle-free wiring on-site.